If you are a budget-conscious traveler, you're probably wondering what is the cheapest way to get to Komodo Island. First off, we need to warn you that getting to Komodo Island on a tight budget means you have to be ready to be out of your comfort zone, so you need to weigh your options properly.
To do that, we are going to show you 2 different ways to get to Komodo Island from Bali and show you the different costs.
How to get to Komodo Island from Bali and/or Lombok

Labuan Bajo can be reached in less than an hour by air and if you find good deals, the flights can be cheap too!
Option 1: Fly from Bali to Labuan Bajo
If you arrive internationally in Bali (DPS) the easiest way to get to Labuan Bajo (LBJ) the coastal town in Flores which is also the gateway to Komodo National Park, is obviously by air. A one-way ticket costs USD 45-90.
There are many flights daily from DPS to LBJ and last minute deals are quite common. However, the fares don't always come with a check-in luggage. We recommend Google Flights to check the fares and schedule.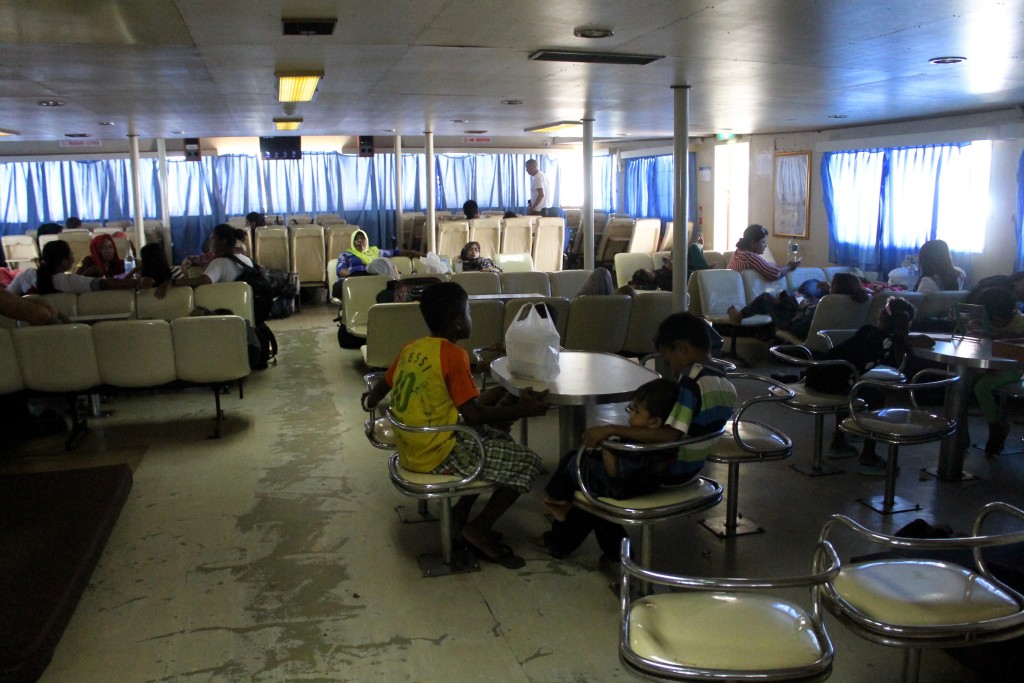 The situation on one of the ferries. Source: diytravelhq.com
Option 2: Take ferries and buses from Bali to Labuan Bajo (Chepaest way to get to Komodo Island) 
Now, this is the cheapest way to get to Komodo Island by far and also the most adventurous one. It will involve a couple ferries, a few buses, and lots of stamina and patience. If you manage not to avoid spending a night in Lombok, the total trip will take you about 32+ hours.
Ready? Here are the steps (Note: The prices are noted in 2016, but this can give you a good idea of how much your trip will cost you):
Padang Bai (Bali) – Lembar (Lombok) ferry – The public ferries from Padang Bai to Lembar depart daily, every hour. The trip takes approximately 4-5 hours at IDR 40.000 or USD 3/person. Then you have to take a van or bus to Mataram (Damri bus terminal). The buses to Flores leave daily at 3 pm, so you can avoid spending a night in Mataram by taking an early ferry (around 7 am).

Mataram (Lombok) – Bima (Sumbawa) bus – This bus trips involves a 1-hour ferry and departs daily at 3 pm. The ticket for this leg should cost IDR 175.000/USD 13.

Bima – Sape (Sumbawa) bus – The trip takes around 1.5 hours and should cost IDR 30.000/USD 2.20

Sape (Sumbawa) – Labuan Bajo (Flores) ferry – The ferry ticket costs IDR 59.000/USD 4.50. It departs in the morning at 8-9 am and takes around 6-7 hours.
Extra tip: In case you find buying bus and ferry tickets on the spot not very assuring (which we completely understand), you can buy a ticket at the Mataram bus terminal (Mandalika) which already includes 2 bus and 2 ferry tickets. Back in 2016, the tickets cots about IDR 375.000/USD 28.
So what will it be like if you choose to take this adventurous way to get to Komodo? Well, from what we've heard the journey can be quite strenuous, and you shouldn't expect anything fancy for sure. This blog post about traveling from Lombok to Labuan Bajo from diytravelhq.com might give you an idea!
Other travel options and which way to choose
There are still various options to get to Komodo Island. But once again, you need to define what your priorities are. If time is an issue for you, flying is the way to go. With bus and ferries, you are never 100% sure that you will catch the bus on time not to have to stay overnight on Lombok.
You can also fly or take a fast boat from Bali to Lombok and continue your journey by bus and ferries. Or go with bus and ferries to Labuan Bajo, then opt to fly back for the return trip.
In the end, time is also a precious asset in traveling, so make sure that you're not sacrificing too much time that you can spend to enjoy and your holiday just to save an insignificant amount of money (again, there are often discounts on flights from Bali to Labuan Bajo)!
How to get to Komodo Island and/or explore Komodo National Park once in Labuan Bajo
Now that you know the cheapest way to get to Komodo, it's time to get to the fun part: exploring Komodo National Park! Once you arrive in Labuan Bajo, you will find many tour operators that will take you to explore the area. It really depends on what you'll like to do!
Are you up for some trekking? Scuba diving? Snorkeling? If you haven't made up your mind, then go check out our Komodo Travel Guide to get more ideas on the best things to do, where to stay and more. If you're into scuba diving, definitely check out our day trips and liveaboard pages or drop us an email at info@somerdive.com. Have fun planning your Komodo trip!